Over the last year, we released the first two RiverCare videos and prepared an interactive menu to give a quick impression of our research to new interested professionals.
The aim of the menu and four promotional videos
As part of the our communication strategy, we have been working on an interactive menu along with four RiverCare promotional videos. The aim is to provide:
A central site to view the four RiverCare promotional videos,
An informal business card for every RiverCare project, and
A portal to the RiverCare knowledge-base.
This way, new interested professionals are provided with a quick impression of RiverCare research as well as an expectation of what kind of results and information to find on the RiverCare knowledge-base. The menu can be viewed at: http://rivercare.nl/
The process behind
The menu and promotional videos present RiverCare work around four settings of river research. We present each setting on a video to provide a glance of our goals and methods: 1) The Meeting Room, 2) The Floodplains, 3) The models and physical Lab, and 4) The Virtual River. The first and second promotional videos are released and can be viewed at the menu. The third and fourth videos are expected within this and the next year.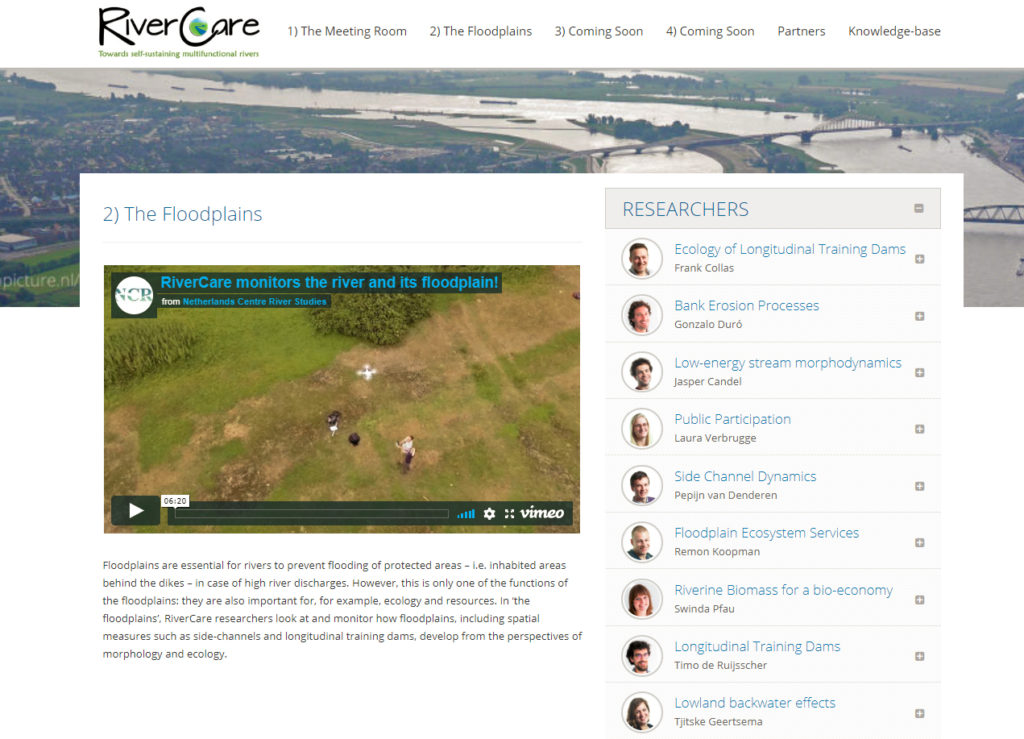 Sneak snapshot of the RiverCare floodplains in the interactive menu. (Source: RiverCare programme)
All projects closest in content or scope are listed next to the video of the respective setting. For example, projects that cover field work in the floodplains are showed next to The Floodplains video. By simply opening the projects related to that setting, visitors of the menu can directly read a brief description and are invited to knowledge-base for more information.
The experience so far
It has been a fun, interesting and insightful side project to coordinate and develop the interactive menu together with Beeldtaal and Kommotiv. Those are two companies focused on creative communication. The RiverCare team behind this menu includes not only the researchers working in the communication and export possibilities. It also includes researchers working in more technical projects such as uncertainty analysis and a representative of the RiverCare coordination. If anything it has given us the lesson that developing anything is not a straight-forward activity; it always takes more time and effort than you expect at first. However, we are pleased with the final result, the menu provides new visitors with exactly the goals we had in mind.
Last modified: 04/07/2018