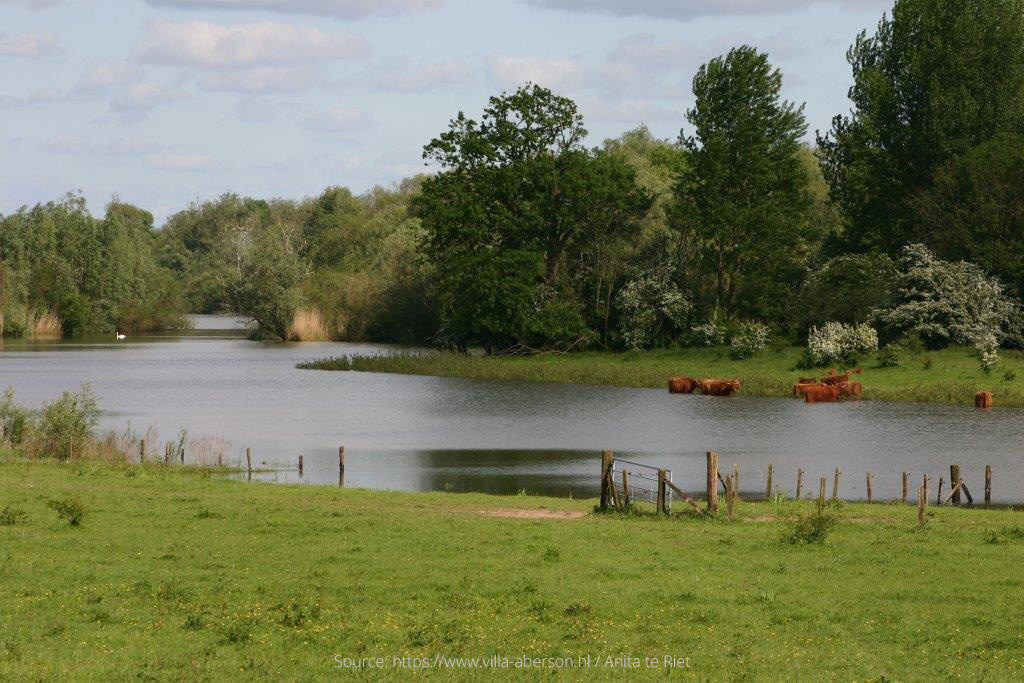 DuurscheWaarden along the IJssel river. One of the three floodplain areas in which fieldwork takes place to understand the growth vegetation patterns.
Thanks for your interest. We are currently updating this project page
Project Output
To support daily management of floodplain vegetation, a method to link vegetation traits to floodplain processes was presented, together with a process based model on trait level and a tool to predict vegetation development in floodplains.
Challenge
Unlike the floodplain vegetation of natural flowing rivers, the vegetation of floodplains of trained rivers is not controlled by river dynamics. Without any measures, floodplains will become encroached by shrubs and forests, jeopardizing water safety because of obstruction of water flow during high river discharges. To avoid such situations various types of measures are taken, like clearing floodplain trees, floodplain excavation and the introduction of herds of large grazers. The challenge is to combine such measures while preserving high biodiversity and recreational value and other ecosystem services. By combining fieldwork and modelling, this study aimed at unravelling the mechanisms that shape the distinct patterns in vegetation composition in floodplains of trained rivers. It therefore supports efficient management of floodplain vegetation.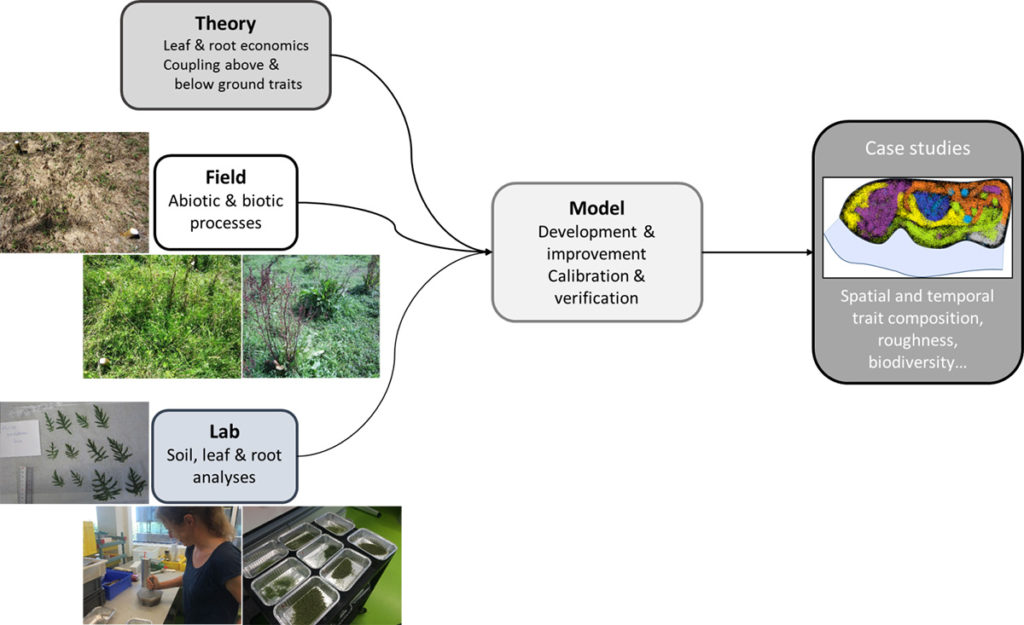 Innovative components
The combination of fieldwork and modelling gave more understanding of the system.
Fieldwork is carried out in 3 Dutch floodplains. A total of 30 1m2 non-woody plots were marked. During 3 growing seasons, the plots' abiotic conditions, like soil moisture, soil nutrient and organic content are monitored, as well as the plots' plants species and plant traits.
The process-based modelling approach is based on linear optimization of plant traits in relation to environmental conditions, and will provide insights in dominant steering processes of floodplain vegetation development. Thereafter this vegetation development is translated  into multiple ecosystem services. To apply the model to a broad range of lowland rivers, the model set-up will be generic.
For whom and where?
Staatsbosbeheer, Rijkswaterstaat, Deltares, Arcadis…
Data-collection methods: Field survey measurements Physical and laboratory experiments Process-based modeling
Temporal scale: Seasonal measurements
Application and development
In floodplains, vegetation composition is steered by disturbances, like excavation and (summer) floods, and a resource gradient. The strategies (i.e. the combination of traits) plant species use differ based on the locally and temporally most dominant processes. The development of vegetation types (on the 'grass', 'herbaceous vegetation', 'bush' and 'forest' level) can be monitored using remote sensing images (Google Earth Engine). From this images, knowledge rules were deduced, allowing for forecasting development of vegetation and hence potentially water safety issues. On a species level, modelling trait composition allowed for exploring mechanistically how measures influence vegetation composition and hence how those measures could best be used for optimizing different ecosystem services.
Status for day-to-day practice
It depends on their question: for organizations like SBB using not only vegetation mappings, but link them to species traits and abiotic conditions increase the understanding of vegetation dynamics. An installation of Symbiosis or TurboVeg together with R and the script for statistical analyses. For the remote sensing part, access to Google Earth Engine is needed. The application would aid RWS in management of floodplain vegetation. Detailed modelling further the understanding of the how, when and where question of vegetation dynamics. R software is needed for this.
Key locations: Waal River (NL)
Spatial scale:
Next steps
More data, on spatial and temporal scale.
Last modified: 31/01/2019
Explore the contact details to get to know more about the researchers, the supervisory team and the organizations that contribute to this project.
Contributing researchers
Valesca Harezlak
University of Twente
As soon as available, explore the storyline to get to know more about the main methods or prototype tools that were developed within this project.
Explore the output details for available publications to get a glance of the innovative components and implications to practice as well as the links to supporting datasets.
Take a look to the dissemination efforts and application experiences which are available in the news items and blogs.
Videos
Anything to ask or share?
About us
We would like to learn from your experiences and questions to take our knowledge further into practice in the Netherlands and abroad. Your feedback will help us to find out about your interests and how useful the information provided was to you.