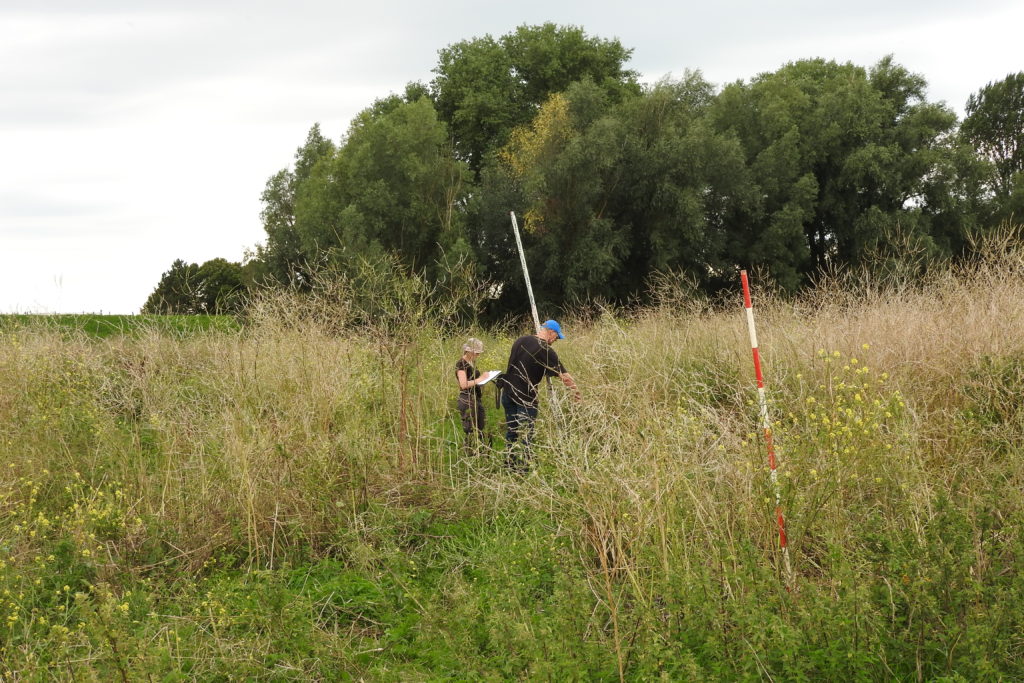 Breemwaard floodplain along the River Waal that is monitored within this study.
Project output
Test of labor-extensive methods to monitor floodplain vegetation and water quality of floodplain waterbodies.
Challenge
Riverine floodplains are important for hydrodynamics, ecology, and socio-economics. This variety of functions can be assessed within the framework of ecosystem services. Some fluvial ecosystem services can be computed based on landscape ecological units, such as ecotopes. However, the ecosystem services vary with spatial and temporal scale, and should be documented properly documented and mapped. Currently, there is no ecotope classification at a comprehensive multi-temporal scale and no multi-scale monitoring methods exist that can automate mapping of ecotopes. Further need for monitoring arises from the flood reduction measures that are currently implemented, which lead to a high spatio-temporal variability of the ecotope distribution. From the perspective of the current river management, our methods will provide an integrated, multiscale monitoring toolbox which will serve river managers and planners alike.
Key goals: Innovative monitoring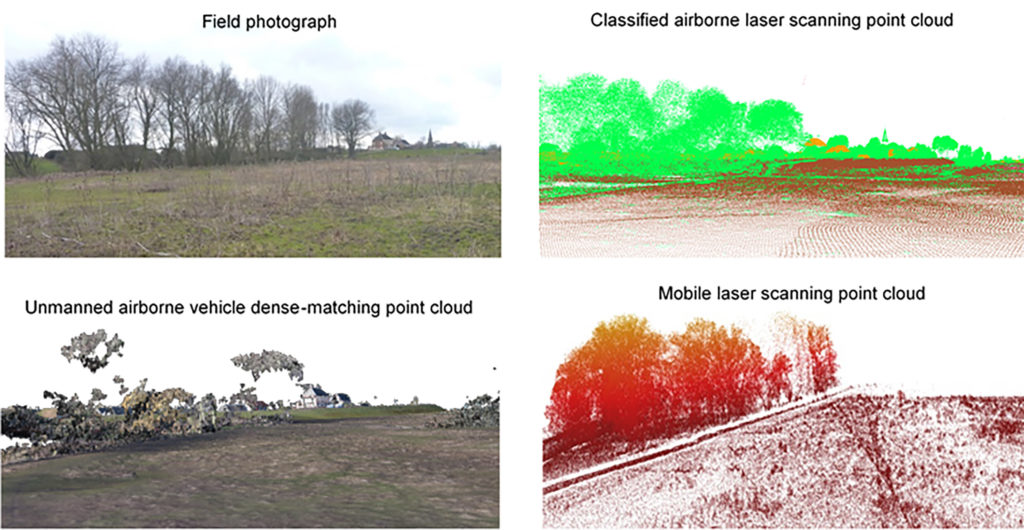 Examples of the different data types used to monitor vegetation in this study. Study area is Breemwaard floodplain along the River Waal.
Innovative components
The main scientific challenge is to determine a multiscale ecotope classification that can be linked to the fluvial ecosystem services, and that can be monitored using remote sensing data. The aim of this research is:
To explore different types of remote sensing data acquired at various spatial scales and from different platforms, ranging from mobile terrestrial, via airborne, to spaceborne.
To explore temporal aspects of vegetation development, such as phenology and succession to be included in the ecotope classification.
For whom and where?
Vegetation management departments of water management organisations in the Netherlands and internationally.
Data-collection methods: Field survey measurements Remote sensing
Temporal scale: Seasonal measurements
Application development and findings
A multi-temporal field study in the Breemwaard floodplain uses unmanned airborne vehicle (UAV) imagery to obtain accurate temporal height profiles of low floodplain vegetation over the growing season. To up-scale the region of interest to a river reach of 100+ km, we use data from spaceborne platforms. We focus on high spatial resolution multispectral data and synthetic aperture radar (SAR) data. We are collecting data from multi-parameter stations along the River IJssel to relate existing measurements at gauging stations along the Rhine branches with local continuous monitoring of abiotic conditions of floodplain waterbodies.
Status for day-to-day practice
The usage of multi-temporal data from UAVs greatly improved classification accuracies of grassland and herbaceous vegetation classes in floodplains. Input data contributing most to the classification accuracy are the spectral and vegetation height layers covering the extremes of the vegetation phenology. Most classification errors occurred in classes without seasonal changes, such as water and paved surfaces. In addition, confusion between natural and production grassland remained. This may be resolved by using thematic data on management of these grassland areas, but preferably this may be resolved by fine-tuning the classification method. However, monitoring the floodplains large catchments with UAV imagery is an impossible task. Therefore, the main next step will be to up-scale the region of interest to a river reach of 100+ km.
Spatial scale: Floodplain
Key locations: IJssel River (NL) Waal River (NL)
This section will be available as soon as possible.
Last modified: 31/01/2019
Explore the contact details to get to know more about the researchers, the supervisory team and the organizations that contribute to this project.
Main researcher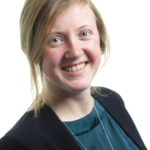 Wimala van Iersel
Utrecht University
As soon as available, explore the storyline to get to know more about the main methods or prototype tools that were developed within this project.
Explore the output details for available publications to get a glance of the innovative components and implications to practice as well as the links to supporting datasets.
Project outputs
Monitoring height and greenness of non-woody floodplain vegetation with UAV time series
12/06/2018 by Wimala van Iersel et al.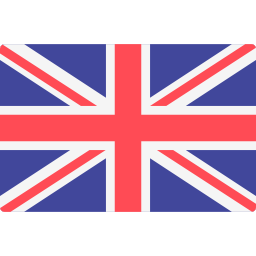 View details
View publication
Contains: Dataset upon request
Other outputs
Jump to: Conference abstract |
Conference abstract
2018
2017
2016
Awards
Best poster award of Nederlands Aardwetenschappelijk congres April 7-8 2016.
2015
Take a look to the dissemination efforts and application experiences which are available in the news items and blogs.
Videos
Anything to ask or share?
About us
We would like to learn from your experiences and questions to take our knowledge further into practice in the Netherlands and abroad. Your feedback will help us to find out about your interests and how useful the information provided was to you.